Staffordshire General Infirmary
(1776 to 1996)
Beginning as a committee of management, who in 1765 leased a house in Foregate Street, for women and later purchased a neighbouring property for men totaling 34 beds.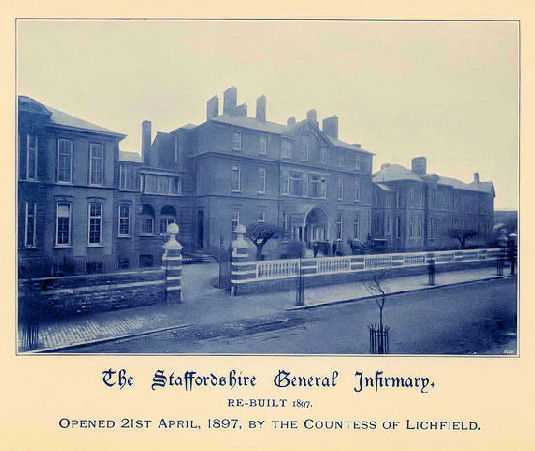 In 1769, a tender was won by Benjamin Wyatt and sons to build a new Infirmary costing £2,784.00 on land leased from Stafford Corporation for 500 years, with rent of 8 shilling per annum, on Foregate. The building was completed, containing 80 beds in 1771. The land had open sewers, pigs (bacon sold to raise funds) and a cow for milk (part of the staple diet, which included meat, potatoes and oats) and an orchard. Later, the meadow was raised to form a garden to stop the river Sow flooding the rear of the buildings.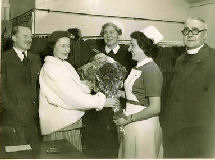 Staff earned; Chemist (apothecary) £30 per annum, Cook £4 per annum, Porter £4 per annum, Nurses £2 per annum and Matron £18 per annum in 1771.
An oak cased, 8 day Grandfather clock (long case) was acquired in 1766 and stood in the buildings for over 200 years until it was stolen from the main entrance in the late 1970's (there can't be many clocks with "Stafford" engraved on the face!!!).
In 1897 the expanding town included a total rebuild of the Infirmary, which also included the bell towers at both ends (if nurses were not in when the bell rang they were locked out). Later additions included; operating theatres in 1920, nurses home in 1927, casualty/outpatients in 1930,

x-ray dept in 1938, pathlabs/orthopaedic ward, boiler house and last of all, engineering workshops (now the lidl supermarket, town planning for this building included building a foot bridge over the river sow, "where is it"?).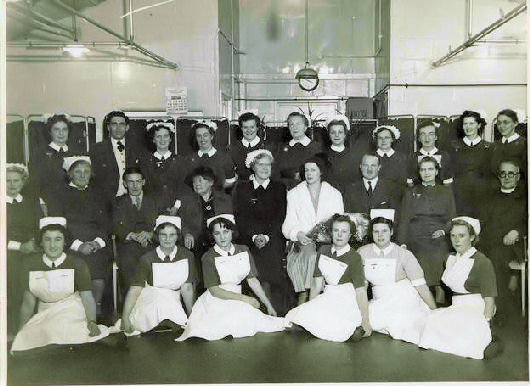 Photograph (above) of a nurses reunion circa 1950's. The list to the right is of some of those present.
Funding for the Infirmary was by benefactors, individuals and companies until 1948. when it became part of the National Health Service and free to all citizens. Private docters charged for their sevices and some like Dr. Davis based at 'the Green', charged 6 pence per week for family insurance, but they too would be drawn into the National Health Service.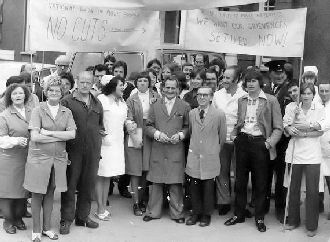 The new Stafford District General Hospital, (built on the site of the old Coton Hill hospital) on the Weston Road was officially opened on June 5th 1983, and worked in tandem with the old S.G.I. until its closure in 1996. The middle core of the S.G.I building is retained with its name as part of an office/retail park and still overlooks the 'Quakers meeting house of the society of friends' built in 1730.
(Written May 2009)