Medieval Water Mill
Quote: "Archaeologists have found what they believe are the remains of a timber medieval water mill on the banks of the River Sow in Stafford." and most other local and national news/media agencies used similar headlines. Unfortunately this wasn't quite the case.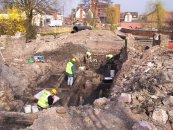 Engineers working on behalf of the Environment Agency who were contracted to repair and upgrade Stafford's flood and river defenses, uncovered this ancient artifact by accident. They were digging a trench to supply an overflow from the Mill Pond into the river Sow. The Trench was situated alongside the known foundations of an old stone water mill that had been demolished in the 1950's.
A local archeologist was called in after the discovery of a sandstone wall. The wall turned out to be part of a 19th century mill, but below this level, large timbers appeared.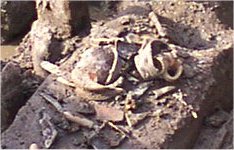 Situated opposite the junction between Tenterbanks and Mill Bank, the preserved remains of the structure can be easily viewed from 3 sides of the site. Many large horizontal beams are lying in their original positions and the timbers and joints appear to be in excellent condition
Several large mortise joints were clearly visible and on one of the beams we managed to get a clear photo of some freshly found artifacts..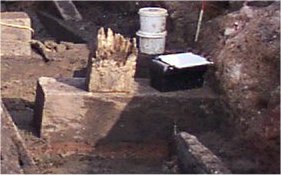 The structure is said to be dated somewhere around the 13th, 14th or 15th century, a more precise date will be established by examining the tree rings in the wood. If the dates are confirmed, this will be the most complete example of a medieval water mill in England.
The future of the mill looked uncertain for a time, but at a meeting of Borough Council, Environment Agency, English Heritage officials and the archeologists, it was decided to save the site from destruction. The original planned pipe work will be diverted elsewhere.
This page may be updated as we get more information about the mill, and as a treat in the mean time, we have added a section to our gallery containing some detailed photographs of the dig.
(Written July 2003)