W.G.Bagnall
William Gordon Bagnall, whose factory W.G.Bagnall Ltd, Castle Engine Works, in Castle Town, Stafford, was world renown for steam locomotives. The firm traded from 1875 to about 1962. The last six indentured apprentices where taken on in 1960.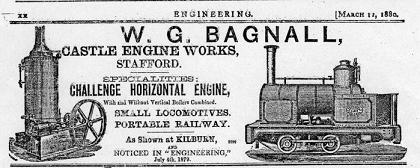 This scanned image of an advert dated March 1880 was taken from an Engineering magazine. The scan and the following photographs and much of the information here was provided by a former apprentice at W.G.Bagnall Ltd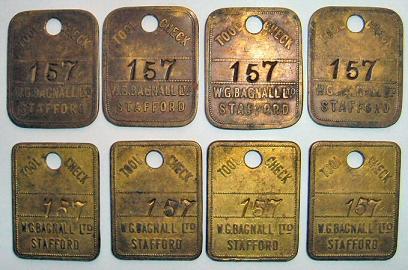 Each of the workshop staff were issued with 10 tool checks. These checks were used at the Tool Shop in exchange for tools and other equipment. The tool checks pictured above were issued in 1960. The last three numbers on the checks were the W.G.Bagnall Personnel number (i.e. 90157, or just 157 in this case)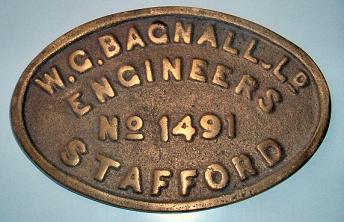 If you ask any Staffordian to name a W.G.Bagnall Engine, most would say Isabel. Isabel, a saddle tank engine, sat on a plinth at the Castle Engine works site from 1953 to 1961.
Isabel was relocated outside Stafford Railway Station in 1963 where it remained until around 1983. The engine is now preserved in steam at Amerton farm railway, entrusted to Staffordshire Narrow Gauge Railway Society.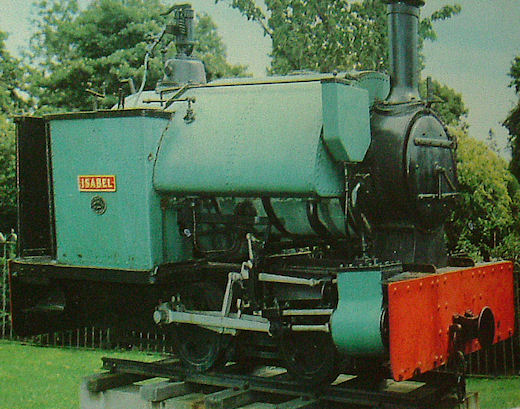 A memorial to W.G.Bagnall stands in the church yard of St. Mary's Castle Church.
(Written June 2005)